Does Human Resources Management drive profits in business?
HR done right, will drive profits in your business. The purpose of Human Resources Management in business is to drive profits. Do you remember when HR departments where more like police departments? Scary huh? We used to dread having to go to the HR department for fear of what was coming next.
Scary department no more. Today, the HR department is about looking after your biggest asset, the employees. We want HR to drive profits through engaged and empowered teams. Not through using whips, chains and scare tactics. That was the way it used to be in the dark ages.
Driving profits in business is one of the key purposes of Human Resources Management (HRM). Today, the purpose of HR is Driving Profits through employees. It's also, about looking after employees. They are one of the biggest assets of your business. So, looking after their wellbeing, safety and happiness is essential.
According to Inc.com encyclopedia: "Human Resource Management (HRM) is the term used to describe formal systems. Devised for the management of people within an organization. The responsibilities of a human resource manager fall into three major areas. Staffing, employee compensation and benefits, and defining/designing work.
The purpose of HRM is to maximize the productivity of an organization. By optimizing the effectiveness of its employees. This mandate is unlikely to change in any fundamental way. Despite the ever-increasing pace of change in the business world."
And in the Journal of Business Strategy Edward L. Gubman: "The basic mission of human resources will always be to get, develop, and keep talent. Align the workforce with the business. And be an excellent contributor to the business. Those three challenges will never change."
Can you believe some people still think the HR department is a cost centre not a profit centre?
Quite a few business owners will try to do HR on their own to keep costs down. It's not a problem until you hit an issue. Sometimes you cannot resolve it on your own. Or it would be better not to try to. A good operations or general manager, with training can do a good job of engaging and leading a team. But sometimes personal issues and misguided opinions can get in the way. Getting an independent perspective on the situation is faster and more efficient. An affordable option is to hire a HR Consultant. They can review the situation without emotion and find solutions.
I have experienced business owners and managers say: "HR is boring. But if you talk about driving profits with the existing team it is more interesting" So what do you think HR is for?
HR is for driving profits in business. By optimising the effectiveness of your employees. This process is not done once and then repeats on its own. It requires a systematic and ongoing focus on activities that improve employee performance. Also saving you thousands of dollars in costly mistakes.
Human Resources Management drives profits by doing the following
Hiring the right people, good fit, right skills, attitude, and personality
Inducting or on-boarding people into the business
Training to ensure knowledge of to work best
Setting performance pay structures, incentives, and rewards
Setting Key Performance Metrics or KPI's that align employee performance to profits. Read about calculating revenue per employee here.
Managing Performance to improve, setting boundaries and when required disciplining for improvement
Employee engagement is an area that is important. It has many steps. Read a separate article on this here.
Aligning employees to the purpose of the business including values. Or "The way we behave around here"
Research confirms the role of good HR in driving profits
There has been a large amount of research in business profitability. And the link to good Human Resources Management practices as sited here:
From Boston Consulting Group and the World Federation of People Management Associations"Companies that are highly skilled in core HR practices experience up to 3.5 times the revenue growth and as much as 2.1 times the profit margins of less capable companies," according to From Capability to Profitability: Realizing the value of People Management. The report from Boston Consulting Group and the World Federation of People Management Associations is based on a cross-industry study of more than 4,200 HR and non-HR managers in more than 100 countries."
You can learn from this research and apply it in your business. Use good human resources management to drive profits.
HR is not something you must do to follow the Law. Use effective human resources management to dive profits. Implementing a few of the steps in your business, could drive more profit.
Follow some of these simple steps to drive profits through your employees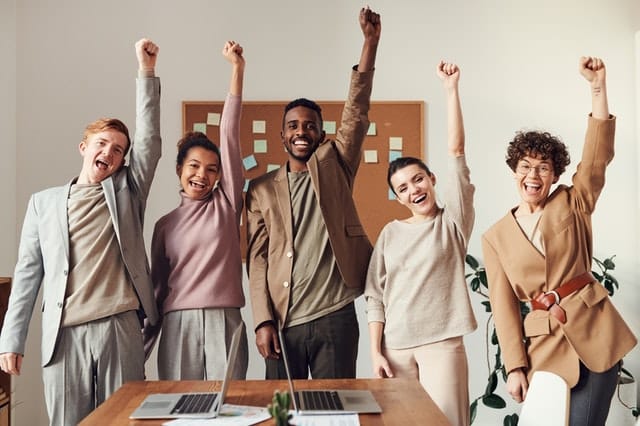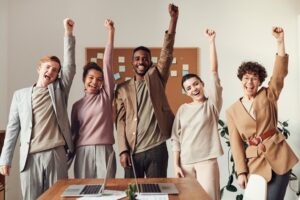 Hiring
When hiring staff for your business look at how they will contribute to your profits. Don't look at the tasks they will do, rather how those tasks contribute to your profits. Include the impact on profit in the position description. To assist with calculating revenue per employee read this article. To learn more about hiring read here.
Rewarding
Include performance-based incentives in your employees' wages. This depends on your budget. But if you can include a performance incentive it will drive performance. Look at rewards for high performance for achieving significant contributions to the business. Give a thank you card when someone does a great job. It is a simple, low cost, gesture that will reap huge rewards. Rewards do not always have to be financial. They can be extra time off, a gift card, a massage voucher. Or any other form of reward demonstrating your gratitude.
Performance Monitoring
Put in place and/or invest in a system for monitoring performance and/or bring in a specialist to help you set it up. Thereby, you and your employees will see the results of their performance. Install a regular catch up with employees to have 2-way discussions on performance. Regular performance management check ins, rather than waiting for something to go wrong. Will result in improvements.
Listen to your employees, especially if their contributing ideas on improvements. Place equal importance on noticing when something goes right as well as wrong. Read more about performance management here.
Performance improvement is a pivotal component of how human resources management drives profits. So, performance management and review is imperative to get results.
Set the right expectations up front
In the first place, be clear about what you expect from employees. Have a "Company Code of Conduct about behaviour expectations. Your values and how their role links to profits.
In the event you do not currently have a code of conduct in place, invest in getting one set up for your business. It will take the headache out of having awkward discussions about behaviour expectations.
Read this article on setting expectations and creating a company culture code here. Read about Insentra's success driven by setting the culture right first. here.
Provide opportunities
Allow employees opportunity to advance. Support their training with time off to study. Or pay for courses that will improve their skills. Opportunities for your employees to improve, results in improvements to your business. So, it will be of benefit to your business.
Listen
Take the time to listen to employees and encourage innovative thinking. As a result, they may come up with  more efficient, better ways to do their job so, encourage them to speak up. In front of, challenges ahead give employees an opportunity to suggest solutions.
Celebrate
Celebrate wins in your business. When something goes well for the business, take the time to celebrate it with the employees. Something as simple as a morning tea. Or Friday afternoon pizza goes a long way towards engaging employees.
Notice your employees doing something good
Take a moment to notice employees, especially the star performers. Let them know you notice and encourage them. Ask a high performer to mentor others. It's one-way to encourage high performance. And reward it by allowing the person to mentor others. Be part of the team not only the boss.
Collaborate
Get your employees talking with you. Allow them to share their ideas. Encourage open dialogue at the right times.
Be available to your employees to talk about their ideas. And any difficulties they are having. Personal issues can quite often spill over in to work, allow people the opportunity to talk with you.
Set boundaries and limit such discussions to work relevance. But don't be completely closed off. As a result, you may find yourself in a position to give some wisdom to your employees. If you do not allow open dialogue with you, you get an unpleasant surprise in the future.
Collaborate with your team to find performance improvements. They may well be part of the solution. If there is an issue, do not assume they are not performing to expectations on purpose. They may have a justifiable and good reason. So, you need to ask them not to accuse them.
Use good HR practices to drive profits in your business
Implementing a few of these human resources management practices will drive profits. If you, do it the right way you will have a more robust and cohesive team. We can prove that great human resources management practices lead to profit. You too can increase profits in your business. Through our HR Consulting one of our customers reached their 15% profit goal. They achieved it this financial year 2021. Despite the Covid19 pandemic and work interruption's due to lockdowns. Work with us o drive profits in your business through your existing team.
√ Learn more about employee engagement. 
√ Read about avoiding FWA fines.
√ Work with me.